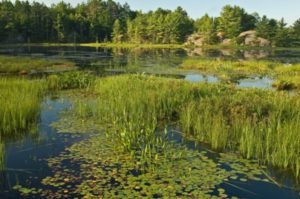 Water Quality and The Environment of Mary Lake
Water quality is one of the big draws to our Mary Lake Paradise. Vigilant attention to monitoring programs and asking questions when unusual conditions or biological activity occurs is our common responsibility.
See the Flood Maps of Mary Lake here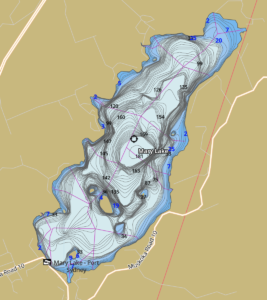 Dr Peter Sale's Presentation On Global Warming in Muskoka
2019 View the Presentation Slides
Algae
Information on Lake Monitoring Programs
Our benthic (bugs in the mud) counting and identifying nearshore creatures provides us with an excellent early warning of threats to our water quality. Each year a survey is done.
Fish in the Lake
Invasive Species
Jane Earthy's MNR Report
Municipal Report
Muskoka Resorts and Tourism Recommendations
UOW Lake Studies
Recommendations from the freshwater summit 2010
Shoreline Buffers
2018 -2019 Environmental Studies
Lake Data/Lake Partner Program
(Jane Earthy Program) gives you all our Mary Lake Secchi (clarity) results and our Total Phosphorus readings for nutrient loading. We have been participating since 2002

by collecting a water sample for total phosphorus after the spring freshet in May and sending it to Dorset. Every few weeks during the summer we drop a Secchi disc down into the water over the deep basin north of Crown Island and measure when it disappears to get our clarity readings.

Lake System Health/Monitoring Your Lake/EMAN/Ice watch is where our full-year resident volunteers will register Mary Lake to track when the ice comes on and off the lake. They have data back to 1987

Lake System Health/Monitoring Your Lake/Terrestrial Plot Monitoring will be the place

we reestablish our 20m by 20m plot of forest on top of Rocky Island that was first measured

in 2003. Unfortunately, a wind event in September 2006 took out the north side and we need professional expertise to set it up again.
Other Initiatives
Well Aware and drinking water testing.

You heard from "Well Aware" at our AGM and in the

past we have had Jim Steele of Jim's Pump Shop speak to us about up to date UV

lights filter systems reminding us of the importance of regular sampling through the public

health testing service that should be done until you get three perfect 0 coliform and 0 e-coli results each summer.

DOCKTALK

promotes natural shoreline buffers, septic care & maintenance.FOCA supplies materials

to educate us and our neighbours about best practices around the water. Some of our members have

signed up for private site visits with a bio-technician. Lake-friendly products are encouraged and we are constantly reminding ourselves of our stewardship responsibility to avoid phosphates, fertilizers and to follow the "GO WILD" philosophy.

This year we welcome the aid of our new directors to attend as many meetings, lectures and workshops

as we can to keep up to date on what makes a merrier Mary. Please set aside some time to use the

water web to learn as much as you can about how we can all be better lake stewards in our local paradise.

Canada Geese

There is serious concern about goose droppings on the Port Sydney Beach as well as along cottage shorelines. Your association is working on strategies to control this. The best strategy, since geese like grass, is to leave your shoreline in a natural state. Watch for more information at the AGM.